Find Yourself in Teotihuacan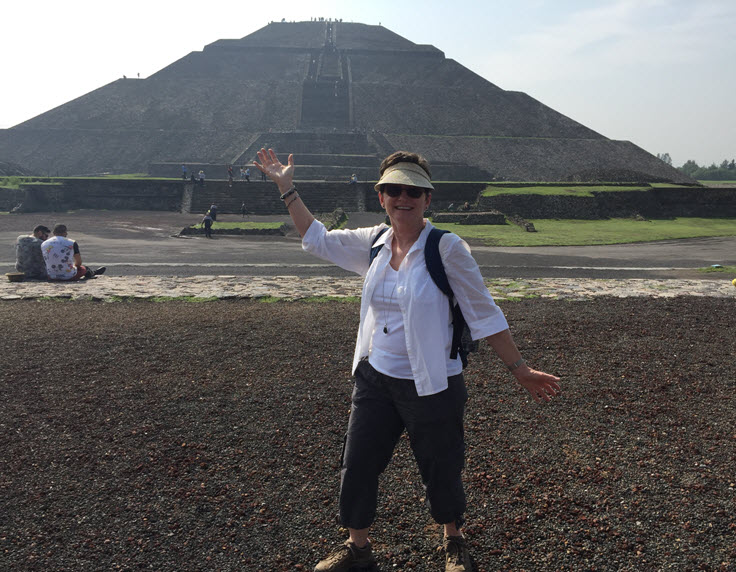 6-Day Transformational Trip
*** New trip under consideration. ***
*** Details below are from a previous trip.  ***
*** Details for next trip may vary slightly.  ***
*** Interested in going?  ***
*** Email me so I can send you updates.  ***
Join me on a pilgramage to one of my favorite places on this planet. 
Unlike typical tourists, we'll follow a Toltec inspired path through the archeological site of Teotihuacán, Mexico.  We'll experience an inward journey toward self-awareness.  
Our home will be a family owned and operated retreat center, The Dreaming House, in a village adjeacent to the pyramids. 
Teotihuacán is in the high desert about 1.5 hours northeast of Mexico City.
Day 1 Thursday 
Travel Day:
Arrive Mexico City International Airport.  Between 1:00 – 3:00 pm we'll take our pre-paid private bus to The Dreaming House, our home for the next 5 nights in San Sebastian Xolalpan, a small village adjacent to Teotihuacán.  We'll have a late lunch at The Dreaming House.  Relax.  Settle in.  Then, meet for a short while in the evening.
Meals:  Late lunch and evening snack.
Day 2-5 Friday – Monday
Pilgramage through Teotihuacan:
Our daily schedule will vary.  Typically, we'll have a big breakfast then visit the Teotihuacán Pyramids, returning for a late afternoon lunch.  You'll have free time to reflect before gathering for an evening discussion and a light supper. 
We'll spend multiple days exploring and moving through the archeological site using a Toltec path of self-discovery.  Outwardly, we'll take a physical journey of walking through the site and climbing pyramids.  Unlike the typical tourist, you'll also experience an inward journey of self-discovery.
Typical daily excursions include:
A journey into Teotihuacan awakens you to new worlds.  Where will your awakened self-awareness take you?
Meals:  Breakfast, lunch and dinner.
Not Included: Snacks for the hike.
Price includes:
All meals.   3 meals a day, including late lunch and light supper on arrival day, and breakfast on departure day.
Not included:
Snacks (about $50.  You can bring snacks for hikes.)
Souvenirs (You'll be tempted to buy something from Alberto's store to remember your trip – his handcraft stone sculptures and carefully selected handicrafts from local artisans are hard to resist.)
Optional upgrades:
$180 Single supplement
$60 Pre-arranged safe taxi to or from the airport (If you know you'll miss the group transportation.)
Pricing Details likely to change
$
225
DEPOSIT HOLDS YOUR SPOT
$
888
Crazy low price when paid in full 6 months early
$
1000
Early bird price when paid in full 3 months early
$
1125
Payment plan spread across several months
PAYMENT LINKS – DON'T USE – EXAMPLE ONLY – PLACEHOLDER FOR NEXT TRIP
THINGS TO KNOW BEFORE YOU GO
Answers to All Your Questions…
Packing – Weather – Passports – Exchanging Pesos – Electricity – WiFi – Meals – How Much Money to Take  – click below…
Paperwork…
Download – Complete, Sign and Return by April 1, 2019:
Emergency Contact Info…
How family and friends can reach you during the trip:
Want to know more?  I'd love to answer your questions.  Call or email me:
Kathy Monaghan
(512) 656-1287 (mobile)
[email protected]